Hello, Bonjour, Namaste
Learn to cook delicious, 
easy
, healthy, Indian, vegetarian* recipes from all over India at a 
Montreal location
. Slurrrrp! Welcome to hands-on cooking in a culture-rich, friendly ambience. Miaaaam! Classes in French, English or bilangue. 
Join the mailing list!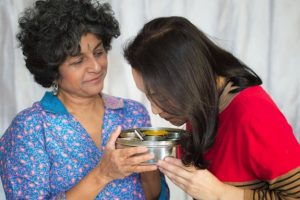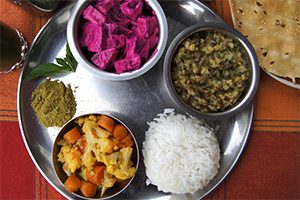 Want to cook Indian but don't know where to start?
Wondering if healthy Indian exists, less oil & chilli; less sweet desserts, with no compromise on yumminess?
Looking for a unique gift (Indian cooking lesson!) or to celebrate an occasion by cooking Indian?
My name is Veena. I was born into a vegetarian tradition in India. My mission: make it easy & enjoyable for people to cook Indian food using veggies, lentils, beans, nuts, other plant-based ingredients & SPICES! I include recipes from all over India in my classes.
Vegetarian does not mean missing out on Butter Chicken, Vindaloo, Korma, etc. I will teach you how to make the gravy, and then you can add meat or veggies when you make these curries at home. There's even a vegan version of Butter Chicken gravy! Indian cuisine is flexible.
Regular classes at my transit friendly, pet-free apartment & elsewhere. Plus I can bring a class to your home, office, community space, in fact anywhere with a kitchen. Check out the options for organizing a private class. Its fun cooking with friends, family, co-workers.
Many gluten-free & special diet options given the amazing variety of Indian cuisine. 
I give or have given classes at the École Culinaire, President's Choice, Chef en Vous, Le Kitchen, a vegan restaurant, and Culinary Academy, Leonardo da Vinci Centre,  all in Montreal, and C'est Bon Cooking, Ottawa.
Not just an intro. to Indian cooking, but also a rendez-vous with Indian culture. I am a writer: I love telling stories & introducing cultural elements. After we have cooked, tasting spices, inhaling aromas, admiring the colours, we will have a meal together & chat, with Indian music playing in the background.
Get in touch by e-mail! Or call me at 514-839-8264.
(Indian Vegetarian = not only no meat, but also no eggs or fish.)*