Indian Cooking Class Online
Take a personalized, private, online, Indian cooking class in real-time! 2 or 3 hours, depending on your preference. Demos also possible. And you have the unique option of setting your own menu.
Learn to cook delicious, easy, healthy, vegetarian* recipes from all over India in a friendly ambience. Miaaaam! Classes in French, English or bilangue/bilingual.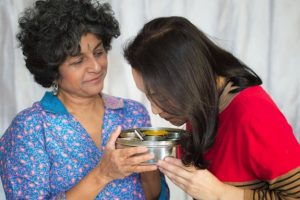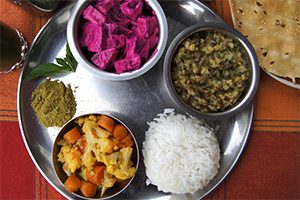 Want to cook Indian but don't know where to start?
Wondering if healthy Indian exists, less oil & chilli; less sweet desserts, with no compromise on yumminess?
Looking for a unique gift (Indian cooking lesson!) or to celebrate an occasion by cooking Indian?
My name is Veena. I was born into a vegetarian tradition in India. My mission since 2015: make it easy & enjoyable for people to cook Indian food using veggies, lentils, beans, nuts, other plant-based ingredients, some dairy, & SPICES! I include recipes from all over India in my classes. Many vegan, gluten-free & special diet options given the amazing variety of Indian cuisine. And I teach Indian streetfood!
*Vegetarian does not mean missing out on Butter Chicken, Vindaloo, Korma, South Indian curries, etc. I will teach you how to make the gravy, and then you can add meat or veggies when you make these curries.
I used to give physical classes at cooking schools like Provigo, Chef en Vous, etc in Montreal, and sometimes in other cities. I also gave private classes at my apartment in Montreal. Plus brought classes to homes, offices, community spaces, in fact, anywhere with a kitchen.
Now, all this continues online. It's fun cooking with friends, family, co-workers, not just in your city, but with folks in other cities, even other countries. WOW! Go to how to take a class.
Contact: Email Cell: (1) 514-839-8264. Hope to see you soon. Namaste!
*(Indian Vegetarian = not only no meat, but also no eggs or fish.)