Check out upcoming classes (plus Mother's Day class will be announced soon): 
Tuesday, April 30, 2019, 6-8.30 pm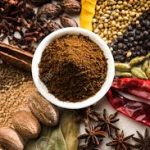 It's time to plunge in a little deeper and make your own masalas (spice mixes). We will make the world-famous Garam Masala and use it to cook 2 signature dishes:
– Eggplant salad (Baingan Bharta)
– And North Indian style dal (lentils)
– Served with Basmati rice
You will walk away not just with the recipe, but also with some Garam Masala! How cool is that?
$55 to be paid a week in advance by interac e-transfer to me, Veena: veenago@gmail.com
Allergies/intolerances? I need to know at once.
At my pet-free apartment. 2 mins from Metro Papineau
On facebook: https://www.facebook.com/events/1094923187345928/
Sign up for Slurrrrp updates here.
A private class, individual or group, is always possible. Options page gives you all the details. Or contact Veena directly. Thanks.