August 2019 classes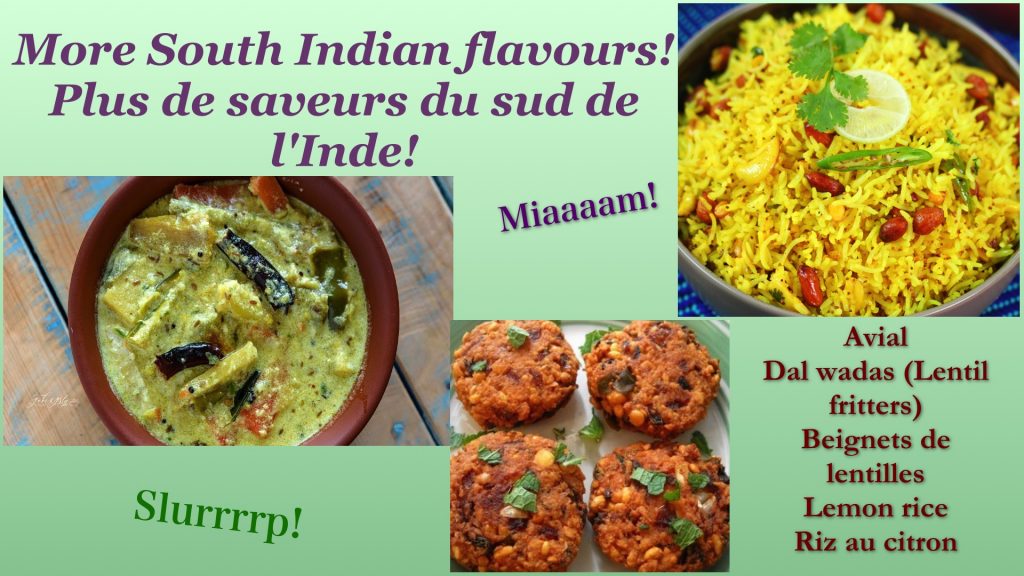 More South Indian Flavours!
Tuesday, 27 August 2019 from 18:00-20:30
Starters: Dal Wada, lentil fritters. I call them flavourful Indian falafels! Packed with proteins.
– Avial, mixed veggies in a yogurt-coconut sauce. A perfect dish for summer.
– Lemon Rice, a yummy dish with lemon, nuts, black mustard seeds, and other South Indian spices.
Plus spice tea when you arrive. BYOB.
Meal, recipes and where to buy Indian ingredients included.
$50, to be sent by e-transfer to Veena : veenago@gmail.com
Booking confirmed on payment (at least 2 days in advance, ideally a week or more) Limited spots.
At my pet-free home minutes from Papineau Metro station, Montreal.
I NEED TO KNOW ABOUT FOOD SENSITIVITIES/INTOLERANCES AT THE TIME OF BOOKING.
On Facebook: https://www.facebook.com/events/485982465311727/
Private classes always possible. Details here: https://www.veenago.com/slurrrrp/options/
Or contact Veena directly: veenago@gmail.com
Subscribe here to the newsletter that goes out monthly: https://www.veenago.com/slurrrrp/fr/infolettre/