Cooking & enjoying an Indian meal with loved ones is a great way to celebrate: birthdays, anniversaries, girls' night out, romantic dinner, Bachelor/Bachelorette parties, baby showers, Christmas, Halloween, you name it.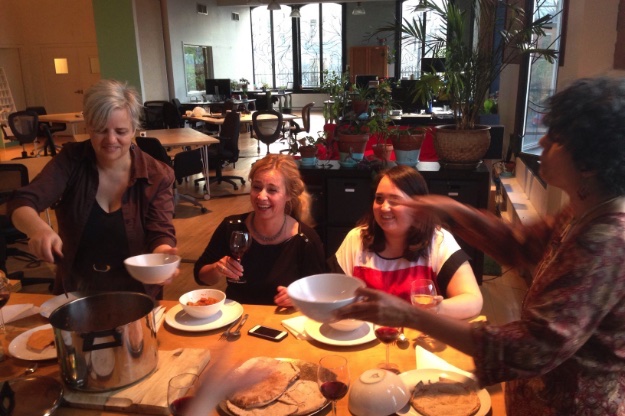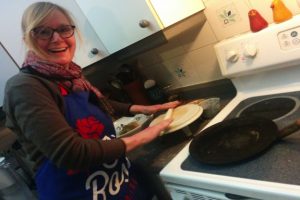 Bring your friends or family to my place for a private class, or I can come to your place with my spices. A special way to celebrate a birthday!
Be the Hostess with the Mostess or Host with the Most: You and I can cook a wonderful Indian meal together for your family & friends
Be an Indian Princess, for Bachelorette and Girls' Night Out. Shorter cooking lesson & meal, followed by dress up, dance, fun!
Generalities for Private Cooking Class at My Place or Yours:
*Duration: 2.5-3 hours, including meal.
*Advance planning (3-4 weeks ahead) and payment (1-2 weeks before the event) needed.
*We will typically cook a 3-dish vegetarian meal developed in discussion with you. Some people leave the menu to me, others want particular dishes.
*You will receive detailed recipes and a list of where to buy Indian ingredients.
*Cultural dimensions can be added, like music, storytelling.
* All prices quoted include taxes.
This formula can be varied. Let's talk: 514-839-8264! Check out the menus.
Very important: Tell me about allergies and food sensitivities at the time of booking.
Cost of Private Class at My Place:
6-8 people @ $50 per person.
4-5 people @ $60 per person
1-3 people @ $70 per person
I provide all the cooking ingredients. BYOB.
IMPORTANT: A small supplement is added to the above cost for expensive or out of season ingredients. You will learn about the supplement in advance of course.
Private Group Class at Your Place:
* I can give a similar class at your place with the same price structure as above, but with minimum payment of $240.
*Also you provide staples like rice, lentils, vegetables, oil, etc. I bring spices and hard to find Indian ingredients.
*Maximum number of guests depends on size of your kitchen and how its equipped.
*Once we set a date we will need to finalise the menu and talk about your kitchen set-up.
*A few days before class, I will send you an ingredient list.
*I will come to your place an hour before the class starts to do set-up with you.
Host with the Most/Hostess with the Mostest:
*You hire me @$50 an hour to cook a meal only with you for a few guests at your place.
*It's a private cooking class for you and you treat your friends and family to a great Indian meal.
*Minimum payment I would need is $150. This pricing includes cooking a 3-4 dish meal for up to 8 people in about two hours, plus kitchen setup time and some commute time. A more elaborate meal for more people would take more time.
*As above, you provide staples and I bring spices.
Bachelor or Bachelorette Party with Extra Oomph or
Girls' Night In — Be an Indian Princess! Guys Night In also possible.
Have a normal class, as above, or a variation with a one-dish, 1 hour cooking class, followed by meal and dress-up. You can try on sarees or other Indian clothing, and jewellery, and take some selfies! (Bring make-up if you like.) Music! Dance! This kind of event can only be done at my place. (6-8 people; starts @ $35 pp) BYOB.
Please Note:
*I live near Metro Papineau.
I don't drive and I would commute by public transport. If the transport time is upto 45 mins, one way, I don't charge for my commute time. If it's going to be more let's talk. I have also used a combo of public transport and getting a ride from my clients.
*I am happy to go outside Montreal as well using bus or train; hosts cover transport costs and transport time is also a consideration.
*Then again people from distant Montreal suburbs and out of town have converged at my place. Refer to Private Class at My Place above.